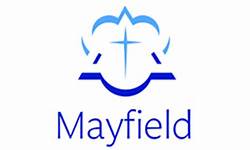 Mayfield School
The Old Palace, Mayfield, East Sussex, TN20 6PH, United Kingdom

Make an Enquiry
What is Mayfield School like?
Set in a designated Area of Outstanding Natural Beauty, yet within a reasonable commute of London, Mayfield's grounds and buildings offer the quintessential British Girls' School environment.
The facilities are excellent across all departments, with the onsite equestrian centre and sporting facilities being particularly notable. The art department is superb, and regularly hosts exhibitions to display the girls' range of paint, sculpture, ceramic and textile creations.
Despite regularly featuring in the top 10 of our girls' boarding league tables, Mayfield School is not overly selective on an applicant's current academic standing. It is therefore possible to deduce that the small class sizes and individual attention (with learning support available for anyone who wants it) drives Mayfield girls to achieve academic results which may not have been possible elsewhere. Variety and productivity are highly valued, and girls are encouraged to follow the subjects and activities they love.
Mayfield School also boasts a separate, modern sixth form centre, where the older girls are offered an environment more suitable to the transition between school and university.
Would Mayfield School be suitable for my daughter?
As mentioned previously, Mayfield School is not overly academically selective. Far more important is a girl's intellectual curiosity and willingness to contribute to the community. As a Catholic school, Mayfield welcomes all faiths and none, but retains an ethos of compassion and integrity, with volunteering forming a central part of the girls' regular activities. Girls are given the confidence to stand by their convictions, and this sense of belonging has created an active alumni of Old Girls, who regularly return to the school to relate with and inform the next generation.
In short, a Mayfield girl will have a keen sense of integrity, awareness, and community. The school aims to enrol students with diverse passions and life experiences, and provide them with the platform and unity to inspire one another.
How can I apply to Mayfield School?
Mayfield School is conveniently located for London and South-East weekly boarders, and is a short trip from Gatwick and Heathrow. Such prime location can add to the demand for places, so it is better to enquire a good 12 – 18 months before entry, or contact us for assistance.
The standard entry years (age 11+, 13+ and 16+) apply, though a smaller number of spaces may be available at ages 12+ and 14+.
Applicants will be required to sit entry tests and an interview.
School Information



Day fees at sixth form
£25,125
Boarding fees at sixth form
£38,925

Exam results 2021 A Level A & A* grades
79.00%

GCSE level A & A* grades
87.00%